Husum Airport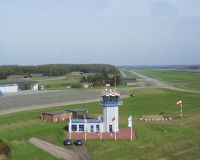 Located on the west coast of Schleswig-Holstein, Husum Airport serves general air traffic with approval for winged aircraft up to fourteen tonnes and helicopters up to ten tonnes take-off weight. In addition, the airport is open day and night for airship, ultralight and glider flight according to visual flight rules.
Opened in May 2000, the airport now serves as a gateway to around two thousand European regional airports and aerodromes, and provides aircraft refuelling and hangar facilities.
Husum – the capital of the northern German district of North Frisia – is a  historical harbour town; today, the town serves as a hub for business and shopping for the west coast of Schleswig-Holstein. Husum has an attractive and lively town centre, and is a well-known and popular holiday resort.
Many small and medium-sized businesses, some with business activities spanning Europe and the world, are based in Husum.
As a trade-fair town, Husum provides a venue for Husum WindEnergy, the world's leading wind power trade fair; many other major specialist trade fairs such as new energy and Nord Gastro have found a home in Husum.